Blackland hosts delegation from Mali
November 2021
By Geoff West
TELEGRAM STAFF WRITER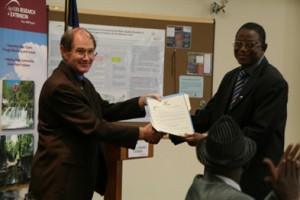 In America, livestock producers have near instantaneous access and information on market prices and sources of feed or water. They bundle livestock in trailers and drive down the highway.
In Mali, livestock producers – known as pastoralists, or simply herders – walk their withering cattle, sheep, goats and camels hundreds of miles across an often-barren landlocked West African country, surviving the occasional catastrophic drought and sometimes trekking days to a watering hole that dried up weeks or months ago.
The modern challenges of Mali herding, a vital cog in its economy, spawned the Mali Livestock and Pastoralist Initiative, a 2006 U.S.-funded project to assist Mali in developing and using 21st century technology to improve the productivity and incomes of livestock producers.
Finding sources of water during the dry season is often hit-and-miss, to the detriment of herders and their stock, Dr. Mamadou Dougakoro Coulibaly, an advisor to the Minister of Livestock and Fisheries, said Tuesday while visiting the Blackland Research and Extension Center with a delegation of Mali scientists.
The Blackland Research and Extension Center, along with other initiative-affiliated research institutions across the country, previously helped Mali integrate text-messaging technology into their livestock marketplace.
Using their cell phones, producers can now receive current market price information from a central Mali database according to an animal's kind, breed, and grade.
The cell phone technology – and everybody has a cell hone in Mali, where minutes are Mali pennies on the U.S. dollar – has empowered livestock producers in his country since being introduced in 2008, Coulibaly said
Now, Blackland researchers and others involved with the initiative have moved on to developing a similar text-messaging system to give herders current information about sources of water, vital on cross-country treks, often during the dry season, which is treacherous for herders, Coulibaly said, in his second language of English.
Crossing lands where the soil is as dry as a tabletop, herders have little knowledge of what's ahead, he said.
"There may be rain here, or over there…," said Coulibaly, pointing at a map of his country, "but they don't know what's there. They're hoping there will be enough water…because in the dry season, there's nothing."
Funding available, Blackland researchers and others in the initiative hope to have the technology available to Mali pastoralists within two years, said Dr. Jay P. Angerer, local project leader with the Blackland Research and Extension Center.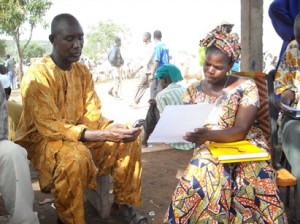 Mali delegates believe the technology will benefit the reality for local herders, who long spend countless hours wasted on a simple search of water.
"Any herder can call and say, 'Hello, I'm here and I want to go this way. What is the situation?' – before he moves," Coulibaly said.
Copyright © 2012, TEMPLE DAILY TELEGRAM