Watershed events: Riesel research station draws worldwide interest
July 2009
by Patricia Benoit – Telegram Writer
RIESEL – This modest McLennan County farm town of 2,600, just 35 minutes from Temple, holds some key solutions to quenching a parched planet.
Located just 2½ miles from the town's center is the 840-acre Agricultural Research Service experimental watershed facility nicknamed the Riesel Watersheds. The facility is world-renowned for its research in hydrology and water quality – the study of water, its use and its conservation. Throughout its 72-year operation, it has been divided into smaller watersheds in the Brushy Creek watershed for research purposes.
The site manager is Dr. Daren Harmel, agricultural engineer for the U.S. Department of Agriculture's Agricultural Research Service (ARS) at the Grassland, Soil and Water Research Laboratory in Temple. ARS – USDA's chief scientific research agency – owns and operates the Riesel Watersheds but works closely with Texas AgriLife Research.
"As farmers' and ranchers' needs change and weather patterns shift, the research emphasis changes to meet those needs," Harmel said.
Currently, Harmel's research focuses on keeping applied fertilizer on crop and pasture land and out of nearby streams.
"We're constantly considering what issues we can address at Riesel. Right now, we're trying to optimize fertilizer use. We want farmers to put out exactly what the crop needs, and nothing more, to maximize their profits," Harmel said. "If farmers put out too much fertilizer or apply at the wrong time, the crops can't utilize it and they have wasted money. In addition, excess fertilizers can get into streams and rivers, which is bad environmentally. Excess fertilizer in water can stimulate growth of undesirable aquatic plants, degrading wildlife habitat and increasing water treatment costs."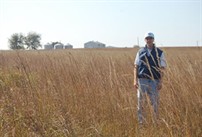 In this cooperative project with the Texas State Soil and Water Conservation Board, Harmel and Dr. Rick Haney are using this world-class research farm to solve real-life agricultural production problems and to protect the environment.
Harmel's research at Riesel and other sites has led to national attention. Recently, the American Society of Agricultural and Biological Engineers named Harmel winner of one of its most prestigious honors, the New Holland Young Researcher Award. He was honored for his outstanding achievements and contributions to agricultural hydrology and water quality research.
Harmel conceived and developed improved methods for sampling water quality on small watersheds. Federal, state and local agencies, universities and consulting firms are using his research for everything from project implementation and product design to writing regulations.
Harmel's research is even affecting gas well drilling in North Texas. The city of Denton, sitting on the gas-rich Barnett Shale, contacted him for an economical, accurate method of measuring water quality from the ever-growing number of gas production sites.
At Riesel, Harmel and his team of technicians oversees 13 water-monitoring stations and 15 rain gauges that measure rainfall, runoff and water quality on the various kinds of lands found in Central Texas – native prairie, improved pasture and cultivated cropland.
"The Riesel Watersheds facility is an excellent site for visitors to learn about state-of-the-art hydrologic and water quality instrumentation," Harmel said. "That's because very few sites have the type and amount of instrumentation and infrastructure we have to measure hydrologic processes on actual landscapes."
As a result, the Grassland Research Lab in Temple and the Riesel Watersheds have attracted scientists from throughout the world – Australia, Brazil, Canada, China, Germany, India, Italy, Pakistan and the United Kingdom – as well as the United States.
The black waxy soil of Central Texas intrigues foreign visitors.
"This soil is infamous for its shrinking and swelling, which causes considerable soil movement and damage to building and road foundations," Harmel added.
The USDA opened the Riesel Watersheds in 1937 as part of the New Deal's attempt to pull farmers out of the deep economic doldrums and to prevent massive erosion losses as occurred in the Dust Bowl. The facility was established on the heels of the Great Depression in the 1930s, when droughts, dust storms, plant diseases and general economic malaise seemed like unsolvable problems.
"In the 1930s, the USDA realized the importance of understanding hydrologic processes on agricultural fields and watersheds," Harmel said. "It established three experimental watersheds. Of the three, the Riesel Watersheds and the North Appalachian Experimental Watershed in Ohio are still operating."
Thousands of acres of fertile farmlands literally "blew away" in dust storms, prompted by droughts. For example, an Oklahoma agronomist estimated that a 100,000-square-mile dust storm was enough dirt in the air to cover 5 million acres 1 foot deep during the 1930s drought, according to "Dust Bowl" by Donald Wooster.
The Riesel facility has dovetailed well into the Temple-based Grassland, Soil and Water Research Laboratory of the Agricultural Research Service, a leader in controlling undesirable plants that compete with grasses on rangelands.
The Grassland Lab has developed new strains of pasture and range grasses and pioneered efforts to develop computer simulation of agricultural processes. Many of its projects focus on computer models and databases used for soil and water testing, geographic-information systems, and other projects based on large sets of data on soils, water and other natural resources throughout Texas and the world.
Dollar for dollar, Agricultural Research Service research nets big returns for the U.S. population, Harmel said. For example, Research Service scientists developed a technique that eradicated the screwworm from the U.S. and Central America. Now a problem of the past, this parasite once infected livestock, wildlife and humans – costing untold dollars and many lives.
"This one ARS accomplishment continues to save the U.S. beef industry millions of dollars, and there are countless other examples like this." Harmel said. "If a hot topic comes up, ARS can snap its fingers and immediately dispatch scientists to work on it. No other agency can do that. As scientists we're told here's the problem, you solve it for the American people. What a great opportunity and responsibility."
–Reprinted with permission of Temple Daily Telegram